– Provided by Marco Fiori:
RF Code has launched CenterScape, a flexible framework of data center management software tools built on the company's powerful Workplace IoT Software. CenterScape brings together years of collected best practices and streamlined methodologies with real-time environmental monitoring and asset management solutions developed specifically for data centers and distributed IT environments. This ranges from small server rooms to globally distributed data centers, colocation sites and edge-based IT rooms.
Ed Healy, CEO at RF Code, said, "The data center has become the hub of every large enterprise and government organization. It is virtually impossible to find a business that does not depend on IT. As an end-to-end Internet of Things supplier, we designed CenterScape to be a flexible framework of data center infrastructure and asset management tools. CenterScape can be deployed as a stand-alone solution or used to provide the real-time, accurate data required to make even the most complex of DCIM deployments a success."
CenterScape's capabilities include predictive analysis, U-level rack asset management and detailed 3D data center visualization, as well as comprehensive asset lifecycle reporting, dynamic facility to global mapping and open-architected APIs for ease of integration with third-party applications. CenterScape works seamlessly with, and improves the functionality of, other data center management systems – DCIM, ITSM, BMS – as well as applications providing "accountability data" on ownership, procurement and provisioning, such as SAP, Oracle ERP and BI systems.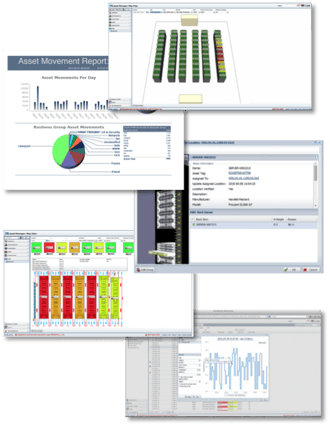 This need for greater financial accountability is outlined by Andy Lawrence, 451 Research's Research Vice President – Datacenter Technologies (DCT) & Eco-Efficient IT, who said, "RF Code has a strong presence in the largest segment of the DCIM market – environmental monitoring and asset management. Their rapid growth and focus on managing the whole lifecycle of the assets shows how important this type of close monitoring is becoming in helping companies maximize the use of data center capacity, and in accurate procurement and provisioning."
As well as helping deliver organizations this transparency, CenterScape eliminates manual audits, prevents damaging temperature and humidity fluctuations, ensures compliance with data and physical asset regulations, and enables the business to generate double-digit percentage power savings. CenterScape's flexibility is further highlighted by a number of RF Code customers that have developed their own solutions based on its framework. Examples include:
A global 200+ lab facility, over 200,000 sq. ft., managing assets through an automated "Laboratory Check In/Check Out" system
Real-time asset lifecycle reports that map the exact location of assets and the time each asset spends in each location throughout their lifecycle
On-demand financial tracking and reporting for leases, warranties and asset depreciation
Richard Jenkins, Vice President, Worldwide Marketing and Business Development at RF Code, said, "Our Workplace IoT Platform serves as the foundation of all our software solutions. Its broad collection of data aggregation, analytics and use cases from the sectors we are established in such as data centers, healthcare, supply chain management, and oil and gas is essential for organizations searching for a consolidated view of operational performance. This visibility improves financial planning, eliminates the risk of breaks in service delivery and strengthens the company's ability to deliver products and services to market."
More information on CenterScape is available here.