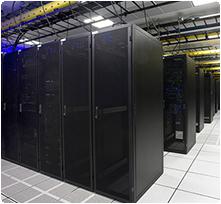 Over the course of the last several years, the problem of ensuring the lowest possible latency and Quality of Experience (QoE) of digital content to local-market consumers and users has become challenging, especially for cable companies and network operators. One solution for these entities is to colocate as close as possible to areas with high concentrations of end-users at the edge of the network, while strengthening interconnectivity through expanded peering options.
Thanks to a new partnership between EdgeConneX® and the Richmond Internet Exchange, businesses and consumers in the Richmond, Virginia, region will soon benefit from advanced Internet connectivity and an expanded network edge as a result of the installation of a connectivity node in the Richmond Edge Data Center® (EDC). This means that Virginia's state capital will officially become an Edge market, bringing content closer to end users throughout the region. What's more, EdgeConneX's partnerships with local cable and network operators will guarantee the fastest and shortest carrier-neutral routes for content delivery to local Internet customers and market subscribers.
Located just 10 miles from downtown, Richmond-IX was started in the fall of 2016 by Ninja-IX. The 101,796 square-foot Edge Data Center was purpose-built and to offer secure colocation for customers looking to deliver applications and content to local-market consumers.
"Following successful partnerships with EdgeConneX in Las Vegas and Phoenix, we're looking forward to this latest venture, as it provides an opportunity for the peering community to grow outside of Ashburn," said Paul Emmons, Executive Director of Ninja-IX (Phoenix, Vegas, Richmond, Sacramento). "As the second existing Internet Exchange in the region, the availability of Richmond-IX within EdgeConneX's Richmond EDC strengthens interconnectivity, providing an added layer of IX redundancy and diversity."
The new Richmond EDC offers concurrently maintainable power with an N+1 configuration and direct cross-connects to the IX with speeds from 100Mbps to multi-10Gbps for customers. What's more, the building has diverse Points of Entry and a variety of fiber conduits to physically diverse Meet-Me Rooms. Along with available interconnection services, the list of carriers right now includes Level 3 Communications, Summit IG, Zayo and Comcast.
Clint Heiden, chief commercial officer of EdgeConneX, also commented on the partnership.
"It's our mission to expand peering options across our entire global portfolio of Edge Data Centers," explained Heiden. "Our latest partnership with the Richmond-IX builds upon this mission, delivering the necessary connectivity to rapidly and securely deliver bandwidth-intensive content and applications to the edge. In addition, by collaborating with Richmond-IX, we also gain the opportunity to provide our customers with these enhanced peering opportunities inside a flexible and scalable colocation environment, while giving tenants access to a diverse portfolio of content delivery networks."
To learn more about EdgeConneX, click here or email info@edgeconnex.com.