Deadline for NANOG 73 submissions is May 8, 2018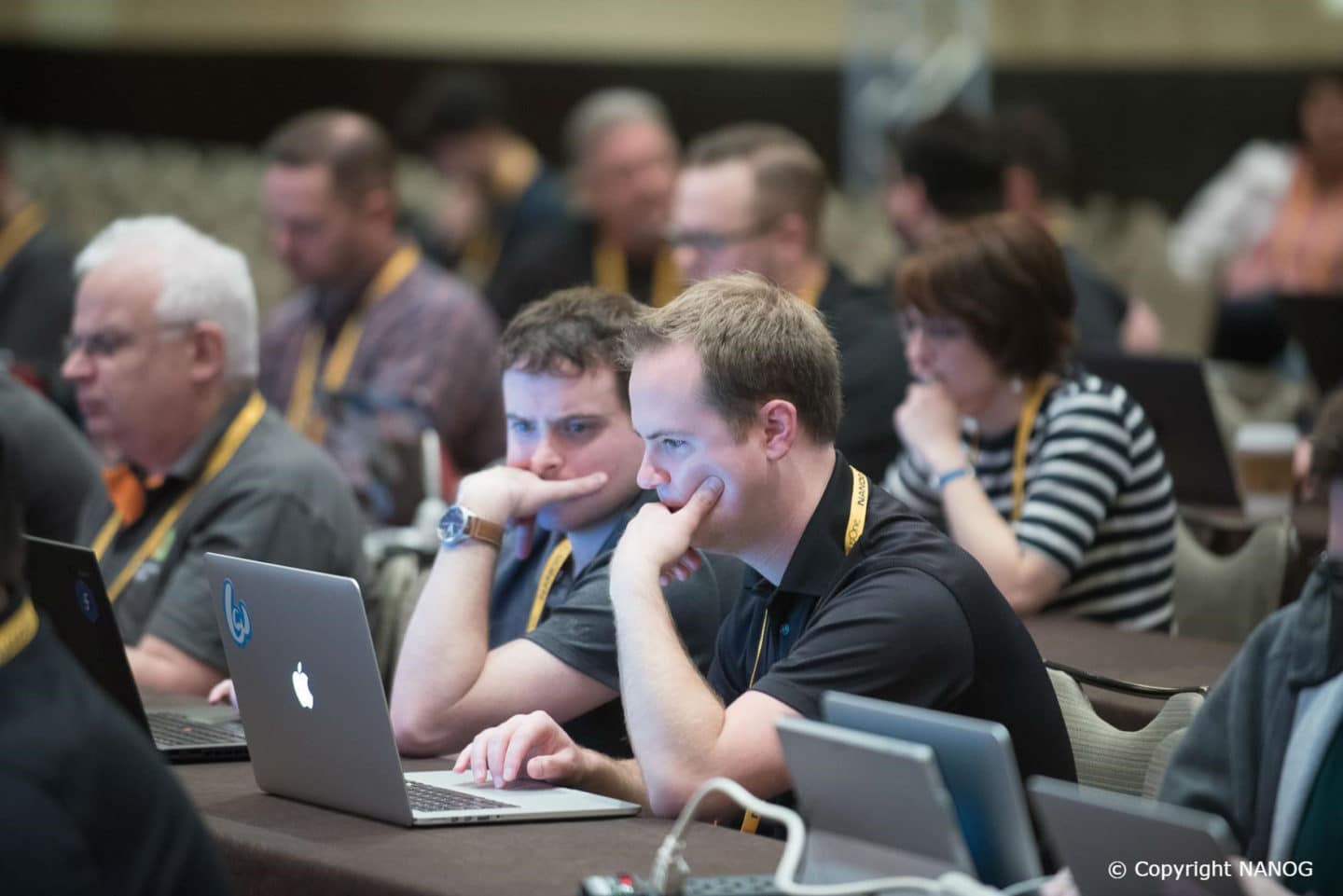 A key driver of The North American Network Operators' Group (NANOG) is its Program Committee. The Program Committee is a Board-appointed group of industry professionals who are the leading force in researching, recruiting, reviewing and implementing the program for each NANOG meeting. The Program Committee solicits presentations and works with potential speakers to review and refine proposals and abstracts, ensuring technical accuracy and relevance to the NANOG community.
The 2018-2019 Program Committee was selected and announced during February's NANOG 72 meeting held in Atlanta, Georgia. The 21 members of the 2018-2019 NANOG Program Committee are Chairman Ryan Woolley, Netflix; Vice Chair Brad Raymo, Oath; and Secretary Benson Schliesser, Volta Networks. In addition, Program Committee Hackathon sub-committee members also include Vincent Celindro, Juniper Networks; Michael Costello, Netflix; and is chaired by Chris Woodfield, Salesforce.com. The Program Committee for the NANOG On The Road sub-Committee are Steve Feldman, CBS Interactive, and Edward Winstead, Internet Systems Consortium. The committee is rounded out by members Christina Y. Chu, NTT America, Inc.; Michaela Clifford, Facebook; Philippe Couture, Videotron; Adam Davenport, GTT Communications; Greg Hankins; Nokia; Tom Kacprzynski, VidScale; Mohit Lad, ThousandEyes Inc.; Ryan Landry, Fastly, Inc.; Ognian Mitev, Charter Communications; Chris Pennisi, Global Cloud Xchange; Jeff Ringwelski, Facebook; Steven Schechter, Akamai Technologies Inc.; and Krassimir Tzvetanov, Fastly.
Program Committee Calls For Presentations
The Program Committee is currently in the process of collecting interest for the upcoming NANOG 73 meeting, set for June 25-27, 2018 in Denver, Colorado, sponsored by CoreSite.
Key Dates for the NANOG 73 Call for Presentations
Registration for NANOG 73 Opened – Monday, March 13, 2018
Agenda Outline for NANOG 73 was posted – Monday, March 13, 2018
CFP Deadline:  Presentation Slides Due – Tuesday, May 8, 2018
CFP Topic List and NANOG Highlights Page Published – Tuesday, May 8, 2018
Speaker FINAL presentation Slides to the PC Tool are due – Monday, June 18, 2018
Lightning Talk Submissions Opens (Abstracts Only) – Sunday, June 24, 2018
NANOG 73 On-site Registration – Sunday, June 24, 2018
Resources
The Program Committee provides interested presenters a few resources that may help to ensure a successful submission:
How to Give a Presentation at NANOG – provides insights to the type of attendees who will be present along with a list of topics of interest
Presentation Guidelines – provide an outline of best practices the Program Committee has observed in helping you create a good talk, along with standard slide format and logo use guidelines.
Tips on Giving a Talk – offers reminders on how to draft a presentation, which are always helpful when preparing a final deck to ensure what we are saying tells the 'story' of the information we are sharing most effectively.
The NANOG 73 Call for Presentations are required to be submitted through the Program Committee Tool. Details on how to submit are illustrated on the NANOG 73 Call for Presentations page.
Last, but not least, if your presentation is not selected, you still have an opportunity to share your thoughts.   Lightning talks are short presentations, limited to ten minutes, given by attendees at a NANOG meeting. Lightning talk submission is opened shortly before the start of a NANOG meeting. If you have a topic that's timely, interesting data to show, or a spur of the moment idea that you would like feedback on, we encourage you to consider submitting it. The Program Committee will vote on all Lightning Talk submissions onsite at the meeting, and a submitter will be notified about his or her submission one day prior to the scheduled talk time.
It's also important to note that appointments to the Program Committee are made by the Board of Directors, based on applications and registered interest from individuals across the entire community. The one criteria required to be appointed to the Program Committee is membership in NANOG, a $100 annual fee (discounts for meeting registrations when applied reduce this fee to an out of pocket expense of just $25 when you participate in all three NANOG meetings a year).
NANOG events include three meetings a year attended by 900-1300 people; four NANOG on the Road Events held in various cities across North America attracting 70-120 people on average; and support programs such as the Hackathon, a one-day event hosted on the Sunday prior to the three NANOG annual meetings.